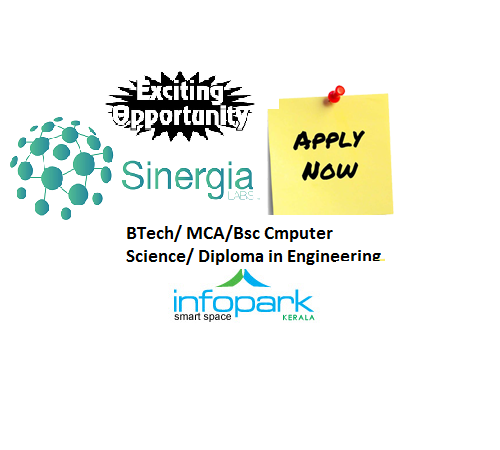 Mobile app developer iOS Job Profile:
• Mobile app  developer – Experience in independently handling the delivery and deployment of the mobile solutions.
• Extensive involvement in all aspects of the project development cycle from estimation to coding and testing
• Re-engineer mobile applications
• Maintaining well documented code
Requirements:
• Minimum 1+ year working experience in iOS development
• Experience working with remote data via REST and JSON
• Experience with third-party libraries and APIs
• Experience in integrating payment gateways
• Should possess strong technical knowledge
• Solid understanding of the full mobile development life cycle
• Excellent analytical, problem solving and versatile interpersonal skills
Qualification
BTech/ MCA/Bsc Cmputer Science/ Diploma in Engineering
Please send the following the details in mail.
Current CTC:
Expected CTC:
Current Company:
Current Location:
Notice period:
Applinks which you have developed
Sinergia labs is a leading provider of end-to-end IOT and mobility solutions.Based in Info Park, Cochin, India Sinergia has the expertise to develop apps on all mobile platforms.People behind Sinergia Labs have over 20 Years of providing professional Technology services for clients across the globe. Our rich experience in multiple domain makes us unique and bring a level of expertise to your firm like no one else. We are working to accelerate the development and deployment of the Internet of Things through building intelligent devices,creating systems of systems by connecting legacy devices to the cloud, and enabling end-to-end analytics. Sinergia Labs is dedicated to providing IOT real for enterprise business as a preferred and trusted partner.we offer a range of IOT and mobility services across industry verticals from our development center in the United States, Singapore and India.