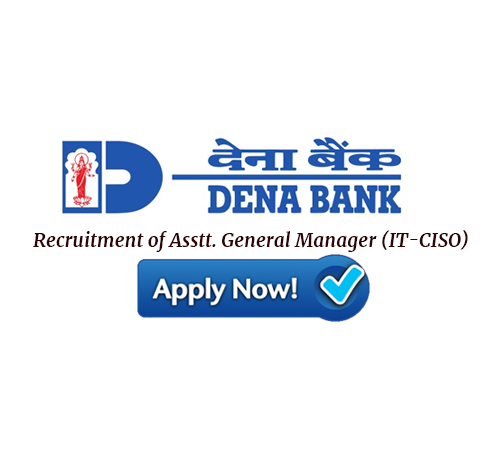 ASSTT. GENERAL MANAGER (IT-CISO): QUALIFICATION :
Bachelor of Engineering or Master of Computer Applications (MCA) with Certified Information System Auditor (CISA) certification or CISSP certification from (ISC)2 or CISM Certification of  ISACA.
EXPERIENCE :
i. Hands-on experience on managing information / cyber security systems and having exposure in formulation and implementation of information security policies and procedures.
ii. 10 years of working experience in supervisory or managerial cadre in handling Information Technology (IT) related functions of which 2 years of experience in information security domain in a Public Sector Bank / Private Sector Bank / Foreign Bank / Financial Institution / Large organisation.
iii. The applicant must be working in minimum Scale IV in PSBs or equivalent Cadre / Grade in Senior Management in other organisation.
JOB PROFILE OF THE ASSTT. GENERAL MANAGER (IT-CISO) IN SENIOR MANAGEMENT GRADE-V
i) To formulate and monitor the major information security projects, their budgets and establishing priorities, standards and procedures.
ii) Articulating and enforcing the policies that bank uses to protect their information assets apart from coordinating the security related issues/implementation within the organization as well as relevant external agencies.
iii) To support the development and implementation of a bank-wide information security management programme.
iv) To look after security incidents and various information security assessments and monitoring activities across the bank.
v) To prepare and implement security awareness programme.
vi) To take care of new developments or issues relating to information security.
vii) Co-ordination with various IT related Committees.
viii) Overall in charge of Business Continuity Planning and DR exercises.
SELECTION PROCESS : Interview.
i. The selection will be made on the basis of Interview. Merely satisfying the eligibility norms do not entitle a candidate to be called for interview. The Bank reserves the right to call only the requisite number of candidates for the interview after preliminary screening/short listing with reference to candidate's qualification, suitability, experience, etc.
ii. The Interview will carry 100 marks. Minimum qualifying marks in the interview will be 40%.
iii. The call letter for interview will be sent by e-mail
Apply Now: More Info click here-
http://www.denabank.com/viewdetail.jsp?lang=0& did=1487600825216F7014B21220D8C5C5DBD9D8DB6775864&id=0,48